| | | |
| --- | --- | --- |
| | | |
| | |
| --- | --- |
| | |

MS Office/Excel/Word, File and Flash Utilities/Software
Interesting Thoughts Writing Website
Health and Wealth Tips/Info Website
Funny Daily Comics
Blackjack Strategy Software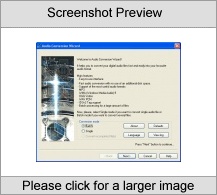 (Click for larger picture)

Audio Conversion Wizard Product Information

To introduce Audio Conversion Wizard, we are offering a special promotion! Only $24.95 U.S. for the full version until September 22, 2018! Click here to order now!




Audio Conversion Wizard Overview:

You want to convert your digital audio easily from one format to another, but you feels yourself not very experienced with computer?
You are professional and you want perform conversion from one format to another with maximum speed and minimum of hard drive space required?Audio Conversion Wizard helps you to convert audio files of supported audio format from one format to another with all possible settings, using easy step-by-step interface. MP3, WMA 8 (Windows Media Audio), OGG Vorbis and WAV PCM formats are supported, with ID3v2 copying and creation. You can use Single mode for easy one-file conversion and Batch mode for fast converting of several files. All you need to do is simply reading explicative texts, making some clicks with your mouse's buttons and pressing Next button.As a registered user, you:
- never see the nag screen
- are able to encode WMA files with 192 kbps
- are able to use batch-processing with more than 5 files at once
- get entitled to register all later versions free of charge
- receive up-to-date info about new versions and updates
- obtain the right of the top-priority technical support

Try the free trial version first, or click here for pricing/to purchase a full version! Order by phone, fax, cheque, money order, or order securely online!
Be sure to check out these other fine products!
Appointment Book - Network Version | InstallWizard XP 2005 (BOX VERSION) | SmartCodeStudio Professional Edition | TextPipe Pro Single User License